Attributes are one of the most important things concerning BGP. With attributes almost everything can be controlled.
There are diefferent types of attributes:
Welll-known-attributes

mandatory
discretionary

Local_Preference
Atomic_Aggregate

Operational-attributes
Propriatary-attributes
Description of Attributes:
Origin
Type Code 1
Well known, mandatory
Identifies the route was originally learned from by BGP

0 – by an IGP
1 – by an EGP
2- not complete /unrelaiable
AS_Path
Type Code 2
Well known, mandatory
Lists ASs between local and destination
Next_Hop
Well known, mandatory
Type Code 3
Identifies next hop to destination
Next_Hop = IP address of peer
MED – Multi-Exit Discremitnator (MED)
Type Code 4
Optional, non-transitiv
AKA "metric"
Indicats preference of one route into an AS over another
Only shared with neighboring AS's
Lowest MED is preferred
Here in this example the MED 100 is preferred as the host with the better Path.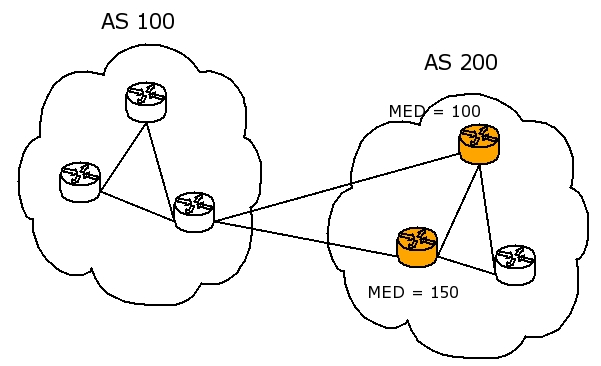 MED ist configured with the "default-metric [number]
Local_Preference
Type Code 5
Well known, discretionary
Indicates preference of one route over another
Within AS only
Higher Local_Preferance preferred
Cisco's default is 100
It's setup with a route-map
If there are two path's from an AS to another and you can setup the local preference for your AS, you can set the Local_Preference to a lower value to become the one route more preferable. So this can be used to optimize the way routers communicate.
Atomic_Aggregate
Type Code 6
Well known, discretionary
Automatically sent when two overlapping routes are received

Less specific route is chosen
More specific route is not chosen
Aggregator
Type Code 7
Optional and transitiv
Any router that aggregates routes can use this attribute
Attribute contains

Aggregators AS number
Aggregators IP address
Community
Definded in RFC 1997
Type Code 8
Optional and transitiv
Allows for grouping of destinations
Apply policies to the group
Transitiv but dropped by default
Predefined communities

No_Export – Do not advertise to EBGP peers
No_Advertise – Advertise to no one
Internet – Advertise to everyone
Weight
Cisco defined
Non-transitiv
Wight assigned on peer-by-peer basis
Integer value (0-65535)
Higher values are preferred
Default is 32768 for originated local routes
Default for other routes is 0
BGP config command: neighbor [ip] weight [weight]